Continuous waste tire pyrolysis plant product introduction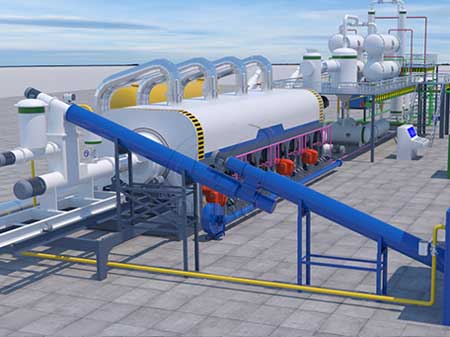 Waste tire pyrolysis plant is a specialized equipment used to convert waste tires into fuel oil. It employs pyrolysis technology, which is a chemical change that converts a substance (usually a high molecular compound) into one or more substances (usually low molecular compounds) by heating with high temperature. Doing new type continuous waste tire pyrolysis plant has better performance on operation, energy-saving, labor-saving, time-saving and oil output.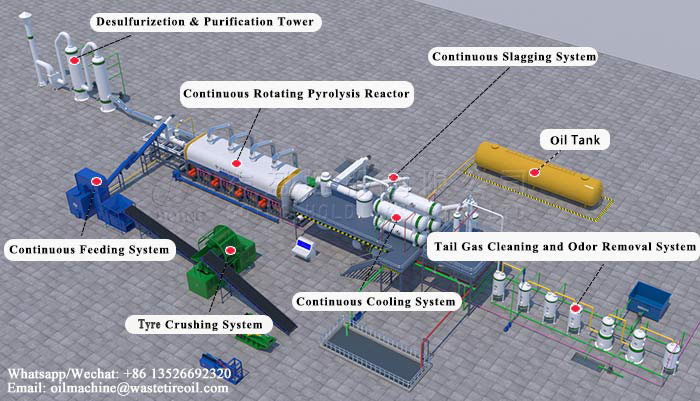 Continuous waste tire pyrolysis plant
The detailed process of continuous waste tire pyrolysis plant is as follows:
1. Drawing steel wire
Put the waste tires into the steel wire drawing machine to pull out steel wire.
2. Crushing waste tires
Crush the leftover waste tires in the shredder to get fine pieces of tires.
3. Pyrolysis
Convey the finely shredded tire pieces into the pyrolysis reactor to pyrolyze them into oil gas, non-condensable gas, and carbon black.
4. Condensation
The oil gas is buffered by the buffer tank and then enters the condensing system which has sufficient contact area and high efficient. Finally, the condensed oil also called pyrolysis oil is collected into the oil tank.
5. Non-condensable gas
After condensing, there is some non-condensable gas, such as methane and ethane, left. It will be recycled to heat pyrolysis reactor after cleaned by tail gas purification system.
6. Purifying flue gas
The flue gas from furnace will be purified by desulfurization tower, and then discharged to air meeting the environmental protection standards.
7. Slag discharging
The carbon black obtained from pyrolysis of waste tires is discharged through the carbon black discharging device including spiral elevator and wind transport system.
Henan Doing group has been engaged in waste tire pyrolysis plant for more than ten years, and has developed different types of waste tire pyrolysis plant like batch waste tire pyrolysis plant and continuous waste tire pyrolysis plant. Batch waste tire pyrolysis plant features low cost, simple structure, convenient operation and fast payback; continuous waste tire pyrolysis plant is characterized by continuous feeding, continuous slag, high automation, time-saving, labor-saving, big processing capacity, high oil output rate and suitable for large-scale waste tire processing project. Doing group can also provide you with customized waste tire pyrolysis plant according to your needs or budget, if you are interested in waste tire pyrolysis plant, please leave your contact information below, our project manager will contact you ASAP.