Waste oil distillation plant product introduction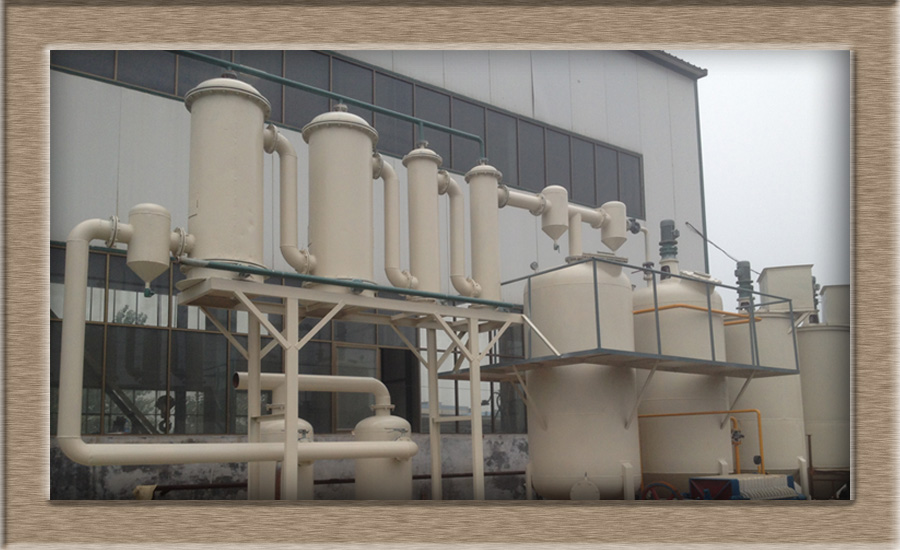 The waste oil distillation plant is mainly to convert the the waste oil to diesel,it is an industry process that crude oil is processed and refined into more useful products such as petroleum, diesel, heating oil,and liquefied petroleum gas.We Xinxiang doing renewable energy equipment co.ltd waste oil distillation plant is used to convert the used motor oil, used engine oil,plastic oil and tyre oil to diesel with great financial profits. The speciations of the plant are as below:
1. We can get stand diesel, after the waste oil such as waste tyre oil, waste plastic oil waste engine oil processed we will get stand diesel.
2. High oil yield rate. We have a special designed equipment to improve the oil yield rate.
3. The plant is very profitable
The process of the waste oil distillation plant:
Feed liquid waste oil-heating-catalytic cracking-cracking-fractionation-cooling liquid-decompression-flammable gas recovery-flammable gas combustion-desulfurization
The raw material and the oil yield we analysis:
Waste engine oil:85%-90%
Waste plastic oil: 90%
Tyre oil: 85%-90%
The final products of the waste oil distillation are fuel oil(mainly used for making electricity, waste gas(recycled to furnace for heating reactor) , Slag
Technical parameter of waste oil distillation plant
Items
Contents
Model
DY-5t, DY-10t, DY-20t, DY-50t…
Raw material
waste oil, plastic oil, tyre oil,
Structure form
Vertical (easy cleaning and maintenance)
Heating method
Indirect heating to prolong the machine service life
Operating pressure
Constant pressure
Heating material
Coal, charcoal, fuel gas, fuel oil
Average out-put oil rate
95%
Material of reactor
4 reactor with different material
Thickness of reactor
18mm
Mode of cooling
Recycled water cooling
Power in total
20 Kw
Service life
average 7 years
Land area
180㎡