Waste tyre oil plant product introduction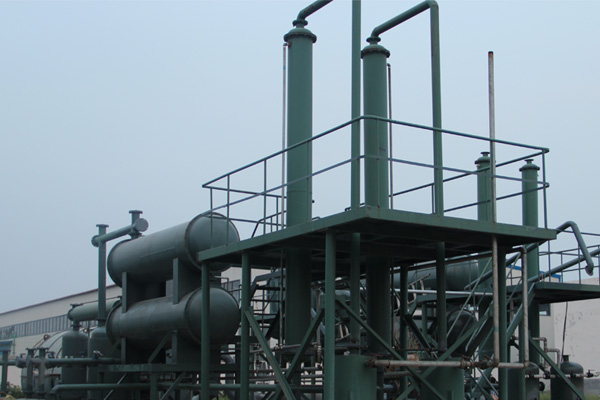 Waste tyre oil plant is the waste to energy recycling machine to convert the waste tyre to fuel oil, carbon black, steel wire, syn-gas. We Xinxiang doing renewable equipment co.ltd are the professional supplier and manufacturer of the waste tyre oil plant. With years of research, development and innovation, we have mature technology to manufacture high quality tyre oil plants.
1. DOING waste tyre oil plant for sale
Capacity 100/500kg, 1-50TPD, various scales to choose from
Machine type skid-mounted, batch type, semi-continuous type, fully continuous waste tyre oil plant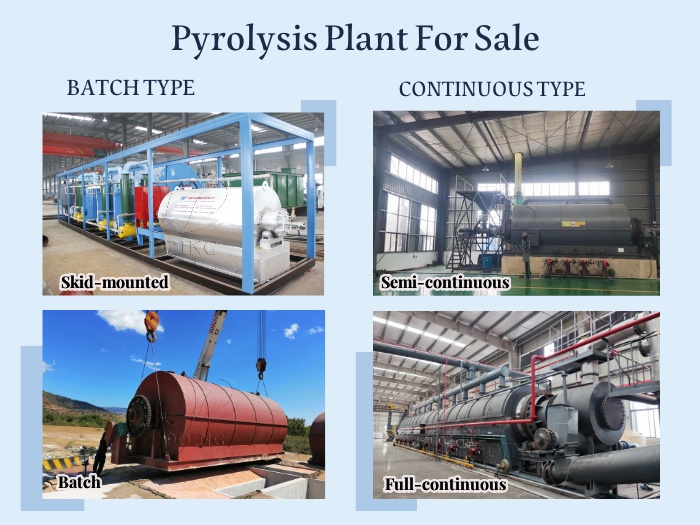 Different types of waste tire oil plant for sale

2. Waste tire oil plant component parts and working process:
The pyrolysis reactor and condensers are the two key parts of the waste tyre oil plant. Pyrolysis reactor is the part that heats the waste tyre. The waste tyre in the reactor will be heated to a temperature, and then the waste tyre will vaporize. The oil gas will be condensed into liquid in the condenser. Then we can collect the liquid tire pyrolysis oil.
Here is the 3D video of our waste tire pyrolysis plant working process for your reference.
3. Waste tyre oil applications
The tire pyrolysis oil obtained from waste tyre oil plant is a good alternative energy to the traditional energy. It has good fuel value. The calorific value of tire pyrolysis oil is about 10000~10200 kcal, so the tire pyrolysis oil can be widely used in many industries, such as iron factories, steel factories, power plants, cement factories, restaurants, etc. And you can also further refine the tire pyrolysis oil into diesel fuel with our waste oil distillation plant.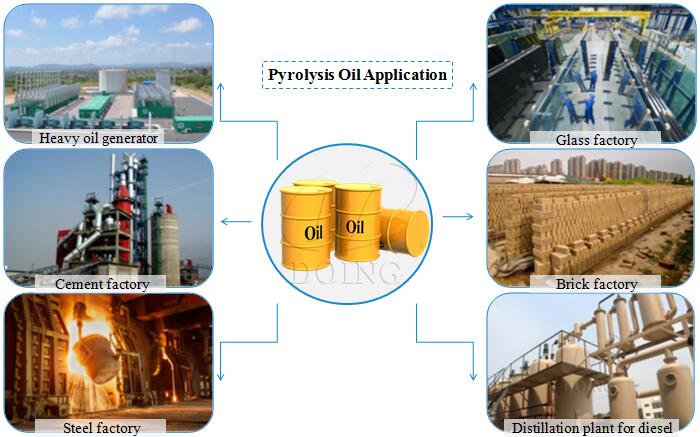 Waste tire oil plant applications

4. The environmental protection devices of DOING waste tyre oil plant
During the process of converting waste tyre oil to fuel oil, there will be no waste generated. We all know that industrial pollution is mainly about waste water, waste dust and waste gas pollution. And DOING's engineer team took the environmental protection devices into consideration while designing the waste tyre oil plant.
(1)No waste water: The water used to cool the oil gas is non-contact with the process. So the water is clean and can be recycled many times.
(2)No flying dust: We have the carbon black discharging system to discharge the carbon black. It's totally sealed and has no dust.
(3) Gas emission: DOING waste tyre oil plant is equipped with the desulfurization system to deal with the waste gas. Therefore, it can meet different countries' gas emission standards.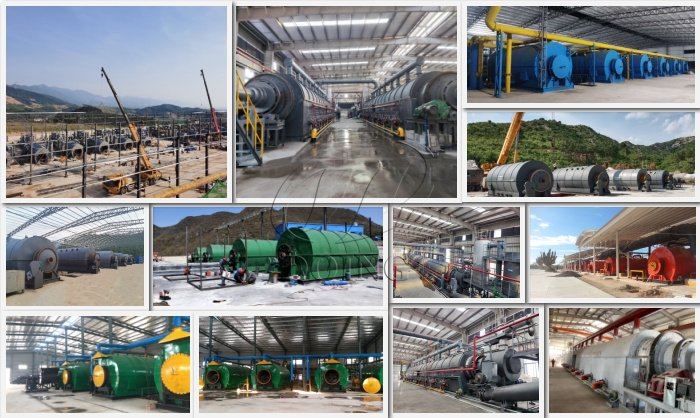 Waste tyre oil plant project cases installed by DOING Company

Till now, we have exported the waste tyre oil plant to more than 90 countries in the world such as India, Russia, Italy, France, Mexico, Pakistan, Malaysia, Iran, Turkey, Nigeria, Brazil, South Africa and so on. We offer perfect service for pre-sale and after-dale service, and 1 year warranty time. For every set sold tyre oil plant, there will be one technician dispatched to your country to help install the plant, design the foundation, and train your workers and so on based on your requirements.
Please feel free to send us your inquiry about DOING waste tyre oil plants if you are interested.
Technical parameter of waste tyre oil plant
 
Items
Contents
1
Equipment type
DY-1-6
DY-1-8
DY-1-10
2
Raw material
waste tyre, waste plastic, waste rubber,
3
Structural form
Horizontal rotation
Horizontal rotation
Horizontal rotation
4
24-hour Capacity
6 ton
8 ton
10 ton
5
Oil yield
2.7-3.3ton
3.6 -4.4ton
4.5 -5.5ton
6
Operating pressure
Normal
Normal
Normal
7
Material of pyrolysis Reactor
Q245R
Q245R
Q245R
8
Thickness of pyrolysis Reactor
16mm
16mm
16mm
9
Rotate speed of pyrolysis Reactor
0.4turn/minute
0.4turn/minute
0.4turn/minute
10
Total power
19KW
19KW
19KW
11
Mode of cooling
Water cooling
Water cooling
Water cooling
12
Cooling area of condenser
100sqm
100sqm
100sqm
13
Kind of transmission
Internal gear drive
Internal gear drive
Internal gear drive
14
Noise dB(A)
≤85
≤85
≤85
15
Size of Reactor(D×L)
2200×6000
2200×6600
2600×6600
16
Working form
Intermittent operation
Intermittent operation
Intermittent operation
17
Delivery time
20days
20days
20days
18
Weight
27T
30T
35T