Waste tyre oil pyrolysis plant price product introduction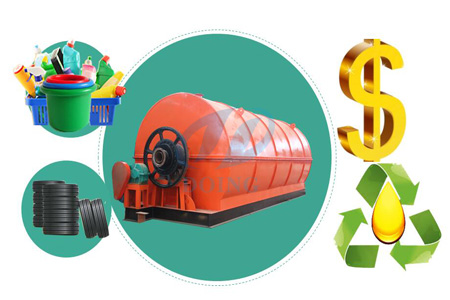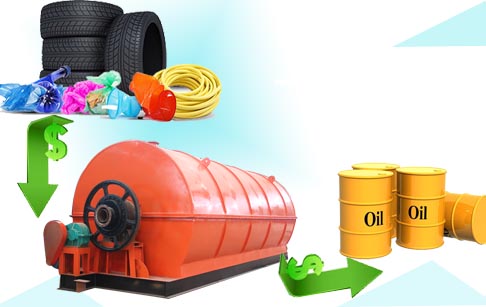 Waste tyre oil pyrolysis plant

Waste tyre oil pyrolysis plant produced by Doing group mainly uses the principle of advanced pyrolysis technology, which can make it as an excellent way to deal with waste tyre, so it also can be called waste tyre pyrplysis plant. By waste tyre oil pyrolysis plant, you can get about 50% tyre oil, 30% carbon black and 20% steel wire. All of them have high value, and you can not only create energy but also turn waste into wealth to make money.

Waste tyre oil pyrolysis plant working proces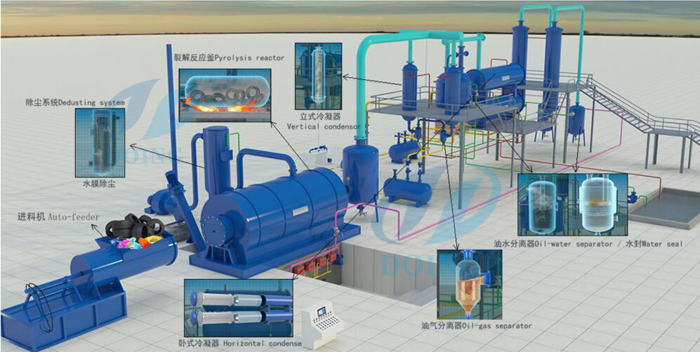 Waste tyre oil pyrolysis plant pyrolysis waste tyre to oil and carbon black

1. Put the waste tyres into reactor and rotate clockwise 0.4-0.8r/min. Seal the feeding inlet door tightly and make sure that there is no gas to leakage.

2. Heat the reactor by using coal, charcoal, fuel gas, wood etc. The reactor will be slowly heated, and when the temperature reaches about 250℃, the oil gas will be formed.

3. The oil gas will come out from the reactor and then go to condensing system to become liquid oil.

4. The gas which can't be liquefied under the normal pressure will be conveyed to go back to combustion system through safety devices. It can be recycled to heat the reactor as fuel, which will save energy for the whole process of working.

5. After finishing the production of oil, the temperature of the reactor will be cooled down. When the temperature of reactor falls down to 40℃, the carbon black and fuel oil will be discharged by auto continuous operation pyrolysis plant.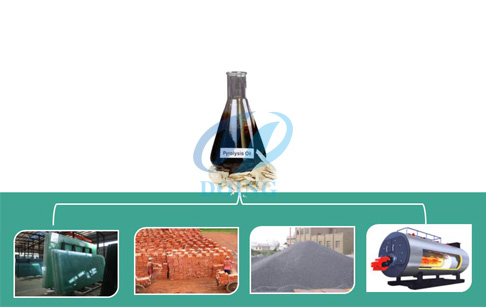 Tyre pyrolysis oil application

1. Tyre oil: it is the first production by Waste tyre oil pyrolysis plant. You can purify it by oil distillation plants to get non-standard diesel, which can be blended with gasoline based on a certain proportion to burn by vehicles.

2. Carbon black: it can be got and then sold directly at a certain price. You can reprocess it into high quality carbon or carbon brick.
Carbon black application

3. Steel wire: it is also a main final product from tyre to oil plant. You can get it through Beston's drawing machines and then sold directly to make money or it was made into steel bloom by hydraulic press-packing.

4. The combustible gas: it can be use as fuel. For example, you can use it to heat the reactor; you can also regard it as industrial and agricultural fuel.


Technical parameter of waste tyre oil pyrolysis plant price
 
Items
Contents
1
Equipment type
DY-1-6
DY-1-8
DY-1-10
2
Raw material
aste tyre, waste plastic, waste rubber,
3
Structural form
Horizontal rotation
Horizontal rotation
Horizontal rotation
4
24-hour Capacity
6 ton
8 ton
10 ton
5
Oil yield
2.7-3.3ton
3.6 -4.4ton
4.5 -5.5ton
6
Operating pressure
Normal
Normal
Normal
7
Material of pyrolysis Reactor
Q245R
Q245R
Q245R
8
Thickness of pyrolysis Reactor
16mm
16mm
16mm
9
Rotate speed of pyrolysis Reactor
0.4turn/minute
0.4turn/minute
0.4turn/minute
10
Total power
19KW
19KW
19KW
11
Mode of cooling
Water cooling
Water cooling
Water cooling
12
Cooling area of condenser
100sqm
100sqm
100sqm
13
Kind of transmission
Internal gear drive
Internal gear drive
Internal gear drive
14
Noise dB(A)
≤85
≤85
≤85
15
Size of Reactor(D×L)
2200×6000
2200×6600
2600×6600
16
Working form
Intermittent operation
Intermittent operation
Intermittent operation
17
Delivery time
20days
20days
20days
18
Weight
27T
30T
35T