Pyrolysis plastic to oil machinery product introduction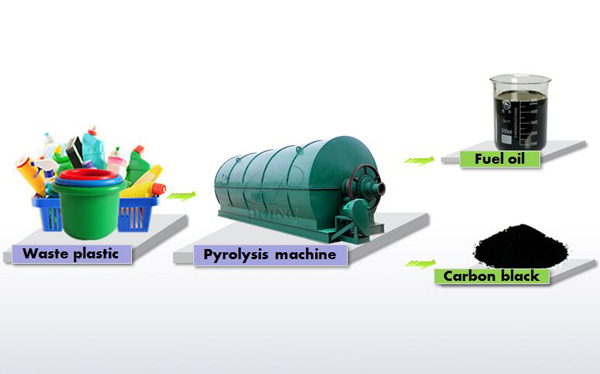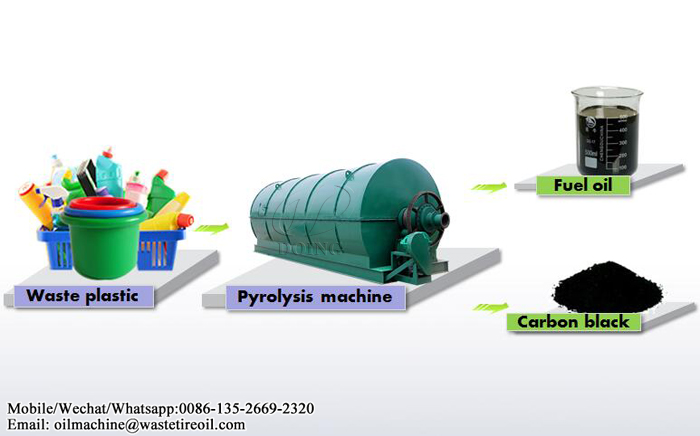 Pyrolysis plastic to oil machinery

Pyrolysis plastic to oil machinery which can transfer the the plastics into oil in normal pressure. In general 2.5 ton waste plastics can get 1 ton oil, and the oil through the distillation can get diesel and gasoline. There is no pollution to the air, the system not only can solve the waste plastic pollution in your country but Pyrolysis plastic to oil machinery is a set of plant that can extract oil, carbon black from waste plastic. The oil from it can be detached to gasoline and diesel for fuel. With the large quantity of waste plastic in the world annually and the increasing international oil price, waste plastic refining is becoming one of the most promising industry.
The working process of pyrolysis plastic to oil machinery: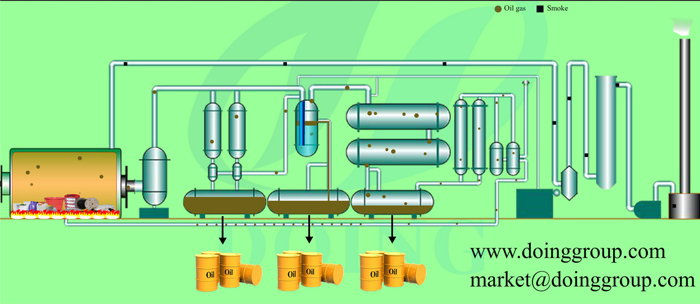 Flow chart of pyrolysis plastic to oil machinery
1. Put raw materials into reactor by auto-feeder, then heat the reactor with any one of the following fuel materials: coal, wood, natural gas, oil. Do not stop heating the reactor, when the temperature reaches nearly 250 degree Celsius, waste tyre will be transferred to oil gas.
2. The liquid oil will be cooled by condenser from oil gas and then collected by oil tank. Third, the exhaust gas which can not be cooled in normal pressure will be recycled to heat the reactor. In this way, you can not only saving energy, but also protecting environment.
3. Smoke produced by processing the tyres can achieve national emission standard through dual desulfurization and dusting removal device.
4. After you get oil, the temperature will be low, at this time, carbon black will be discharged automatically.
Last, when the temperature falls to 100 degree Celsius, worker could put steel wire hook to reactor to take steel wire out. After all these steps, you can start another batch.

Pyrolysis plastic to oil machinery final product and application: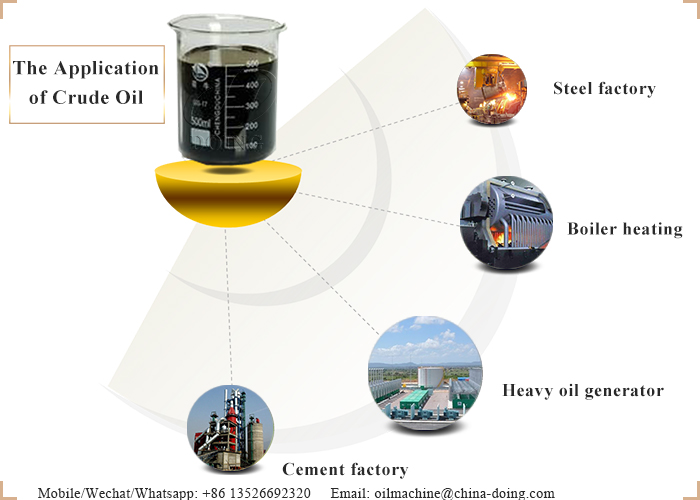 1.Fuel Oil (40% to 45%)
The main application of oil products produced by our waste tyre oil extraction machine is the fuel oil that is wide used for industrial and commercial purposes. Such as power plant factory,glass factory,cement factory,ceramic fatory.

2.Exhaust gas (About 10%)
We get about 10% pyrolytic gases during pyrolysis process. The main component of this gases are methane (CH4), so we can not condense and store this gases. We use this gases to heat the reactor and we can use exceed gases for other heating application.
Technical parameter of pyrolysis plastic to oil machinery
 
Items
Contents
1
Equipment type
DY-1-6
DY-1-8
DY-1-10
2
Raw material
waste tyre, waste plastic, waste rubber,
3
Structural form
Horizontal rotation
Horizontal rotation
Horizontal rotation
4
24-hour Capacity
6 ton
8 ton
10 ton
5
Oil yield
2.7-3.3ton
3.6 -4.4ton
4.5 -5.5ton
6
Operating pressure
Normal
Normal
Normal
7
Material of pyrolysis Reactor
Q245R
Q245R
Q245R
8
Thickness of pyrolysis Reactor
16mm
16mm
16mm
9
Rotate speed of pyrolysis Reactor
0.4turn/minute
0.4turn/minute
0.4turn/minute
10
Total power
19KW
19KW
19KW
11
Mode of cooling
Water cooling
Water cooling
Water cooling
12
Cooling area of condenser
100sqm
100sqm
100sqm
13
Kind of transmission
Internal gear drive
Internal gear drive
Internal gear drive
14
Noise dB(A)
≤85
≤85
≤85
15
Size of Reactor(D×L)
2200×6000
2200×6600
2600×6600
16
Working form
Intermittent operation
Intermittent operation
Intermittent operation
17
Delivery time
20days
20days
20days
18
Weight
27T
30T
35T