Tyre to oil plant with pyrolysis technology product introduction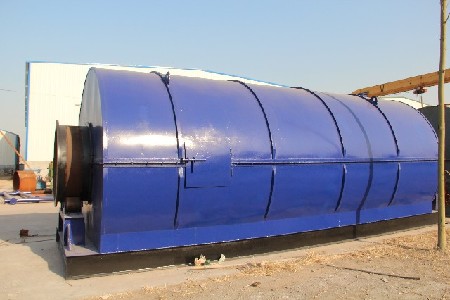 Tyre to oil plant can pyrolysis the waste tyre. End product: crude oil,steal wire and carbon black. And The whole operation process does not have a bit pollution.
Tyre to oil plant with pyrolysis technology
Open the feeding door of reactor then put scrap tires into the body of the reactor.Then the body of the reactor will be heated up by the fuel under it.

The scrap tires will decomposed when it heated up to a 160C in the reactor. The decomposed tires transformed into oil gas. Waste gas will be processed in the emissions scrubber transmitted by the pipe on the top of the pyrolysis reactor,by the processing of emissions scrubber the harmful gas will changed into clean air then release into the air.

When crude oil get through the gas separate the Impurities will be filtrated, so that crude oil can be refined. Crude oil get through the depositing tank to the cooling pool for cooling in it,Then transform into liquid. Liquid crude oil will delivered to tanks for store, and the exhaust gas from the crude oil in the tank will transported to exhaust gas recycle system then transported to The bottom of the pyrolysis reactor as fuel to heat up the the pyrolysis reactor.


Technical parameter of tyre to oil plant with pyrolysis technology
 
Items
Contents
1
Equipment type
DY-1-6
DY-1-8
DY-1-10
2
Raw material
waste tyre, waste plastic, waste rubber,
3
Structural form
Horizontal rotation
Horizontal rotation
Horizontal rotation
4
24-hour Capacity
6 ton
8 ton
10 ton
5
Oil yield
2.7-3.3ton
3.6 -4.4ton
4.5 -5.5ton
6
Operating pressure
Normal
Normal
Normal
7
Material of pyrolysis Reactor
Q245R
Q245R
Q245R
8
Thickness of pyrolysis Reactor
16mm
16mm
16mm
9
Rotate speed of pyrolysis Reactor
0.4turn/minute
0.4turn/minute
0.4turn/minute
10
Total power
19KW
19KW
19KW
11
Mode of cooling
Water cooling
Water cooling
Water cooling
12
Cooling area of condenser
100sqm
100sqm
100sqm
13
Kind of transmission
Internal gear drive
Internal gear drive
Internal gear drive
14
Noise dB(A)
≤85
≤85
≤85
15
Size of Reactor(D×L)
2200×6000
2200×6600
2600×6600
16
Working form
Intermittent operation
Intermittent operation
Intermittent operation
17
Delivery time
20days
20days
20days
18
Weight
27T
30T
35T