Old tyre pyrolysis plant product introduction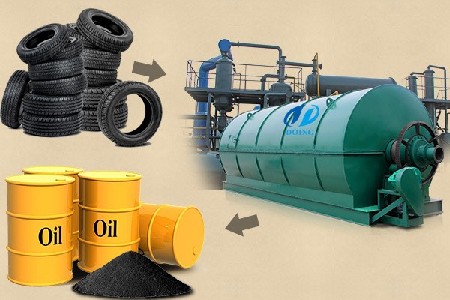 Pyrolysis can be referred to process old tyre into fuel gas, fuel oil, steel wire and carbon black.Nowadays the old tyre pyrolysis technology and how to disposal old tyre are always a hot topic in the pyrolysis industry. Here I would like talk about old tyre pyrolysis plant briefly.
The pyrolysis method for recycling old tyre is a technique which put the whole or shredded old tyre in a sealed reactor vessel containing oxygen free atmosphere to heat old tyres. In the reactor the rubber is softened which after rubber polymers breakdown into small molecules. These smaller molecules eventually vaporize and exit from the reactor. Then for the vapors can be burned directly to produce power or condensed into an oil type. Usually the liquid is as fuel.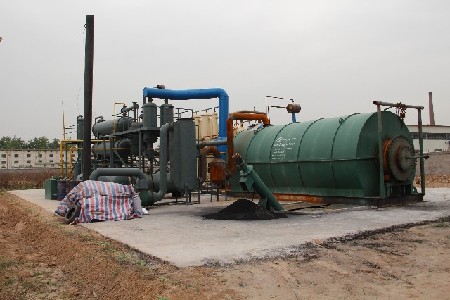 Old tyre pyrolysis plant

The pollution issues is the most talking topic by users.Here DOING old tyre pyrolysis plant has no pollution during working process. The gas generated by pyrolysis plant can be used to heating the pyrolysis plant. And the black smoke will be removed by the dedusting system. Little energy is required to run the machine. The heat material is just in the beginning of the operation, once the machine is running it will used its own tail gas to heat the reactor to save energy, save cost.

The qualities of the outputs such as carbon black, steel wire, crude oil are depends on the types of plastics/old tyre. Different types of plastic/old tyre have a different oil yield and different qualities. Usually old tyre oil yield is about 45%-52%. Plastic is about 20%-95%.
About oil yield details, you can check here.

Technical parameter of old tyre pyrolysis plant
 
Items
Contents
1
Equipment type
DY-1-6
DY-1-8
DY-1-10
2
Raw material
old tyre, waste plastic, waste rubber,
3
Structural form
Horizontal rotation
Horizontal rotation
Horizontal rotation
4
24-hour Capacity
6 ton
8 ton
10 ton
5
Oil yield
2.7-3.3ton
3.6 -4.4ton
4.5 -5.5ton
6
Operating pressure
Normal
Normal
Normal
7
Material of pyrolysis Reactor
Q245R
Q245R
Q245R
8
Thickness of pyrolysis Reactor
16mm
16mm
16mm
9
Rotate speed of pyrolysis Reactor
0.4turn/minute
0.4turn/minute
0.4turn/minute
10
Total power
19KW
19KW
19KW
11
Mode of cooling
Water cooling
Water cooling
Water cooling
12
Cooling area of condenser
100sqm
100sqm
100sqm
13
Kind of transmission
Internal gear drive
Internal gear drive
Internal gear drive
14
Noise dB(A)
≤85
≤85
≤85
15
Size of Reactor(D×L)
2200×6000
2200×6600
2600×6600
16
Working form
Intermittent operation
Intermittent operation
Intermittent operation
17
Delivery time
20days
20days
20days
18
Weight
27T
30T
35T