Waste tyre/plastic pyrolysis oil application product introduction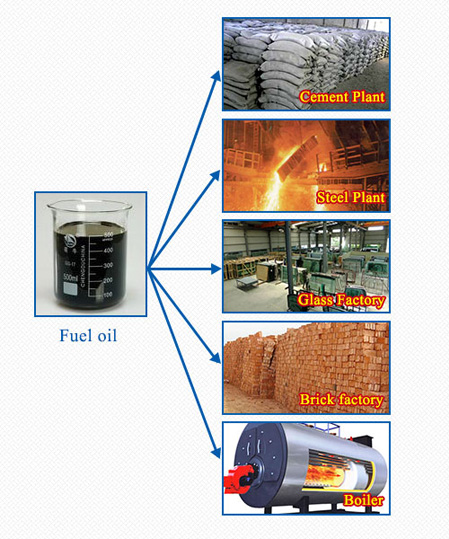 Pyrolysis oil is oil extracted from the waste plastic or waste tyre. The pyrolysis oil is a good energy for heating. Nowadays more and more countries are facing the lack of energy in the world. Many countries are importing the oil from other countries. The pyrolysis oil has a good market in the world. The pyrolysis oil mainly extracted from waste tyre oil, waste fuel oil.
The process of converting waste tyre/plastic to fuel oil is very cheap. So the cost of producing pyrolysis oil is very cheap compared with the petroleum based crude oil. The pyrolysis oil is a very good energy for heating.
The pyrolysis oil is mainly used for boilers, generating electricity power, glass factory, and cement factory and so on. During the process of generating waste tyre/plastic pyrolysis oil. The waste tyre/plastic will vaporize .The vapor will be condensed into liquid. Then it is the pyrolysis oil. During the process little energy is consumed. It is the product of renewable equipments.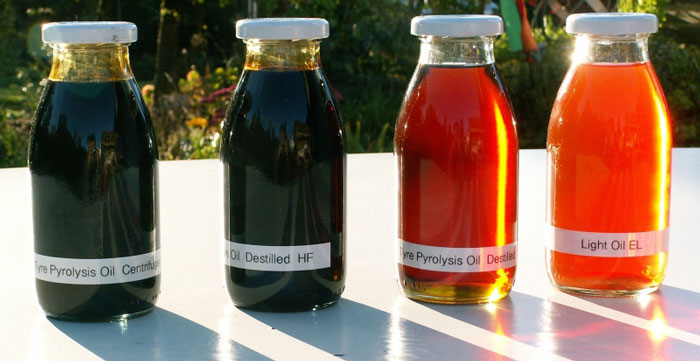 pyrolysis oil generated from waste tyre&plastic

The pyrolysis oil has a fuel value that is generally 50%-70% that of petroleum based fuels and can be used as boiler fuel or upgraded to renewable transportation fuels. The pyrolysis oil can be refined into diesel used for tractor and so on.The production process of pyrolysis oil is benefical to the environment and the pyrolysis oil will be used more and more widely in the future.It meets the standard of sustainable development.It is a technology to convert the waste to energy.So the pyrlysis oil should be promoted.

Technical parameter of waste tyre/plastic pyrolysis oil application
 
Items
Contents
1
Equipment type
DY-1-6
DY-1-8
DY-1-10
2
Raw material
waste tyre, waste plastic, waste rubber,
3
Structural form
Horizontal rotation
Horizontal rotation
Horizontal rotation
4
24-hour Capacity
6 ton
8 ton
10 ton
5
Oil yield
2.7-3.3ton
3.6 -4.4ton
4.5 -5.5ton
6
Operating pressure
Normal
Normal
Normal
7
Material of pyrolysis Reactor
Q245R
Q245R
Q245R
8
Thickness of pyrolysis Reactor
16mm
16mm
16mm
9
Rotate speed of pyrolysis Reactor
0.4turn/minute
0.4turn/minute
0.4turn/minute
10
Total power
19KW
19KW
19KW
11
Mode of cooling
Water cooling
Water cooling
Water cooling
12
Cooling area of condenser
100sqm
100sqm
100sqm
13
Kind of transmission
Internal gear drive
Internal gear drive
Internal gear drive
14
Noise dB(A)
≤85
≤85
≤85
15
Size of Reactor(D×L)
2200×6000
2200×6600
2600×6600
16
Working form
Intermittent operation
Intermittent operation
Intermittent operation
17
Delivery time
20days
20days
20days
18
Weight
27T
30T
35T