High oil yield waste engine oil distillation plant product introduction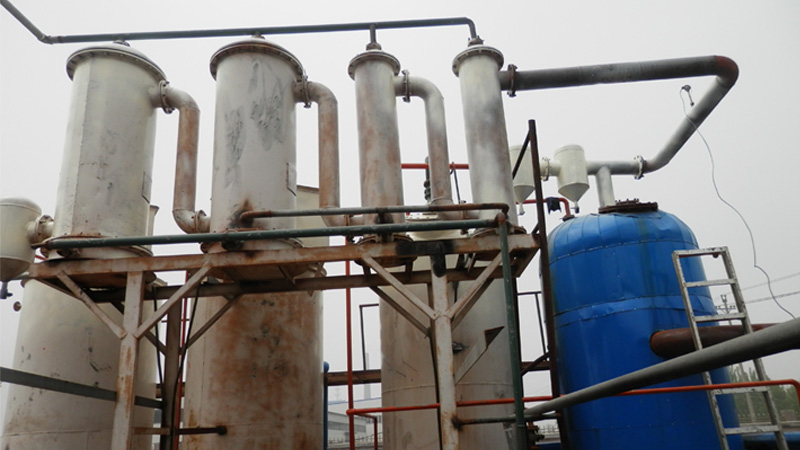 Firstly of all we need to put the waste oil into the reactor by our specialized oil pump. Then heat the reactor.
During this step the liquid oil will become oil gas,the oil gas will go through the chamber and condenser orderly,then diesel will come out by controlling the temperature over 150Celsius degrees.The gasoline will come our when the temperature is below 150 Celsius degrees. For the waste oil distillation plant we have specially color and smell remove system to remove the smell and make the color better. The process is very easy, you just need to put the oil into the tank. The last step is slagging, we can get the diesel which is of high quality.
The beneficiations of our waste engine oil recycling to diesel plant
Safety:
The machine adopts auto-welding technology for the reactor.Thus guarantee the sealing of the reactor.The technology can not only improve the efficient but also guarantee the quality of sealing of the reactor. Thus avoid explosion.
2. We have x-ray detection system for welding and the professional heating system.
3. The vacuum system and anti-fire back system will prevent the oil gas going back to reactor causing fire addident.
4. We have professional thermometer pressure gauge and safety valve.
5. It is dangerous to burn exhaust gas (C1 TO C4) without any safety measures. But during our process the waste gas is transferred through the safety device first and safe gas gun. Before burning,we will ensure the safety of production.
Environmental friendly:
1. We have water de-dusting system which can avoid black smoke and smell.
2. The waste gas will be recycled back to heat the reactor safely. There will be no gas pollution.
3. All the junction of our plant is good sealing situation with professional sealing material.
Longer service life:
1. Some of our components of the distillation plant are made of stainless steel. The carbon steel material reactor will be firm and longer service life.
2. Automatic welding with heating treatment and X-ray detection will prolong the service life of reactor to the max.
Technical parameter of high oil yield waste engine oil distillation plant
Items
Contents
Model
DY-5t, DY-10t, DY-20t, DY-50t…
Raw material
waste engine oil, plastic oil, tyre oil,
Structure form
Vertical (easy cleaning and maintenance)
Heating method
Indirect heating to prolong the machine service life
Operating pressure
Constant pressure
Heating material
Coal, charcoal, fuel gas, fuel oil
Average out-put oil rate
95%
Material of reactor
4 reactor with different material
Thickness of reactor
18mm
Mode of cooling
Recycled water cooling
Power in total
20 Kw
Service life
average 7 years
Land area
180㎡