Tyre recycling pyrolysis plant cost product introduction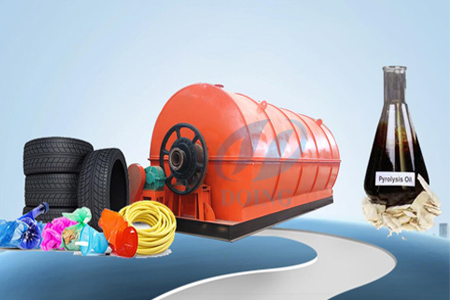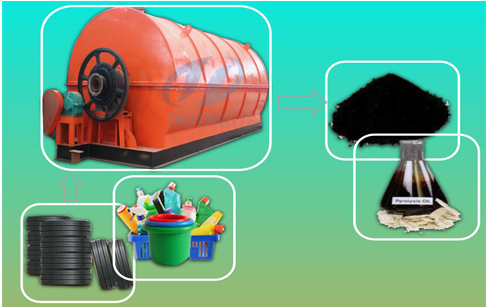 To solve the problem of used tyres waste plastic and waste rubber in a green way, instead of landfill or burning.
Waste tyre recycling pyrolysis plant is feeding in every second and minute,automatic ejecting wastes residue,fuel product day and night.waste tyre or waste plastic into fuel and energy .The raw material of tyre recycling pyrolysis plant is waste tyre ,waste plastics,waste rubber .

Tyre recycling pyrolysis plant pyrolysis waste tyre to fuel oil working process
Tyre recycling pyrolysis plant pyrolysis waste tyre to fuel oil working process

1. Feeding the raw material into the reactor by manual or auto feeder, then fire the fuel to heat the reactor.

2. After the temperature increases to relevant degree, the oil gas will be generated and enter the gas separator.

3. The heavy components will be liquefied and drop into the heavy oil tank. And light oil gas will rise into the oil condenser being liquefied and get into the oil tank.

4. The unliquefied combustible gas will enter the hydroseal , in here , after desulfuration and purification , one part of it will be recycled to heat the reactor, another part will be burn out to reduce the pressure while the pressure is too high.

When the whole process is over, we can get fuel oil, steel wire, carbon black from tyre pyrolysis plant. And they all have a wide range of applications.


Fuel Oil (40% to 45%)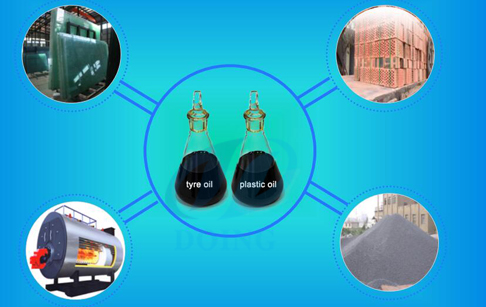 Fuel oil application

The main oil product produced by our recycling application is the fuel oil that is wide used for industrial and commercial purposes. The oil has 40% to 45% of the amount of recycled scrap tyres, which will be carried with licensed tanker trucks.

1. Can be widely used as industrial fuel materials for burning.

2. If further refined to diesel or gasoline, the oil can be used in low speed engines such as digging machine, road roller or loading machine, etc.

3. It can help in relieving energy crisis.

Carbon black application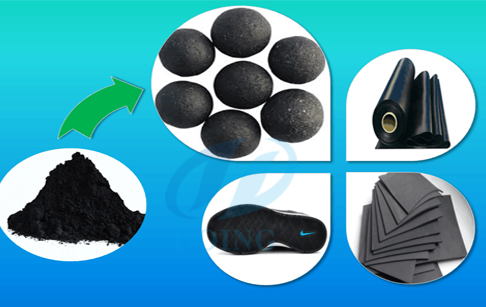 Carbon black application

1. The carbon black can be used for construction bricks with clay or used as fuel.

2. If further processed by Doing group carbon black processing plant, the carbon black can be deep processed into N220, N330 Carbon black, which has higher value and wider applications.

3. It can be made into pellet or briquette for burning, or further processed into color master batch as basic material to make pipes, cable jacket etc.
Technical parameter of tyre recycling pyrolysis plant cost
 
Items
Contents
1
Equipment type
DY-1-6
DY-1-8
DY-1-10
2
Raw material
waste tyre, waste plastic, waste rubber,
3
Structural form
Horizontal rotation
Horizontal rotation
Horizontal rotation
4
24-hour Capacity
6 ton
8 ton
10 ton
5
Oil yield
2.7-3.3ton
3.6 -4.4ton
4.5 -5.5ton
6
Operating pressure
Normal
Normal
Normal
7
Material of pyrolysis Reactor
Q245R
Q245R
Q245R
8
Thickness of pyrolysis Reactor
16mm
16mm
16mm
9
Rotate speed of pyrolysis Reactor
0.4turn/minute
0.4turn/minute
0.4turn/minute
10
Total power
19KW
19KW
19KW
11
Mode of cooling
Water cooling
Water cooling
Water cooling
12
Cooling area of condenser
100sqm
100sqm
100sqm
13
Kind of transmission
Internal gear drive
Internal gear drive
Internal gear drive
14
Noise dB(A)
≤85
≤85
≤85
15
Size of Reactor(D×L)
2200×6000
2200×6600
2600×6600
16
Working form
Intermittent operation
Intermittent operation
Intermittent operation
17
Delivery time
20days
20days
20days
18
Weight
27T
30T
35T