Two more 12TPD waste tire pyrolysis plant project in China Project Features
Two more 12TPD waste tire pyrolysis plant project in China Project Description
Good news! Two set 12TPD waste tire pyrolysis plant has been installed successfully in China's Shanxi on 4th Jan, 2021. These two waste tire pyrolysis plants can help customer dispose of 24t waste tire into fuel oil, carbon black and steel wires per day.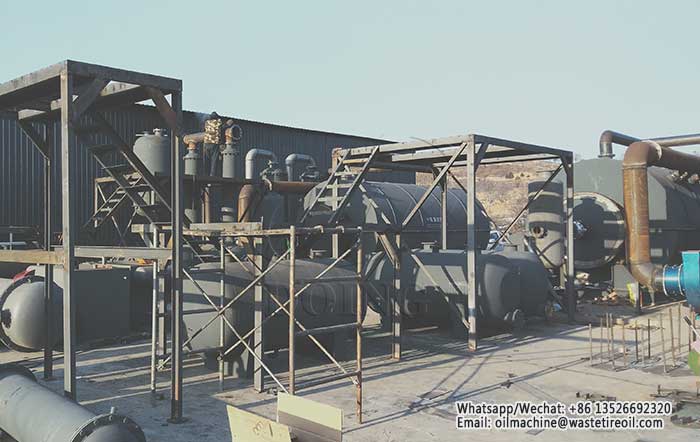 In order to help more people to get detailed information about this waste tire pyrolysis plant project, we prepared this project form for reference:
| | |
| --- | --- |
| Project Name | 24TPD waste tire pyrolysis plant project |
| Factory Location | Shanxi, China |
| Main Equipment | Pyrolysis reactor, cooling system, safety device, smoke cleaning system, oil tanks |
| Oil Yield | About 35%-45% |
| Capacity | Processing 24t waste tire per day |
| Technology | Pyrolysis technology |
This project went smoothly from beginning to finishing the installation which only took about one month. One reason was this customer from Shanxi, China trusted our strength after having purchased our waste tire pyrolysis plant twice before, another reason was these 12TPD waste tire pyrolysis plant were in stock, so we didn't need extra time to produce.
Below are photos of Doing waste tire pyrolysis plant under installation in Shanxi:
Below is a video showing fuel oil produced by Doing waste tire pyrolysis plant:
This is the feedback from our customer in Shaanxi, he said he got 8 tons of fuel oil from his 20 tons of waste tires, which is far beyond his expectation, and the fuel oil produced by the waste tire pyrolysis plant is very clean. And he clearly said that if he expanded his business in the future, he would like to cooperate with Doing Group again.
We are very happy to hear this news, and we hope our customer's business will get better and better. If you are also interested in this waste tire pyrolysis plant project, please feel free to contact us.