Tyres oil to diesel recycling plant product introduction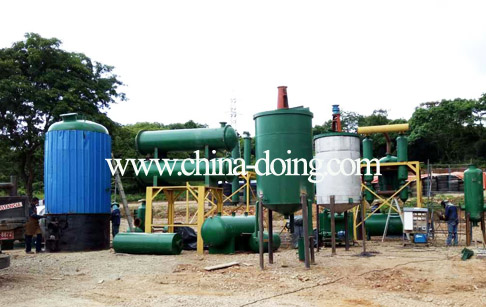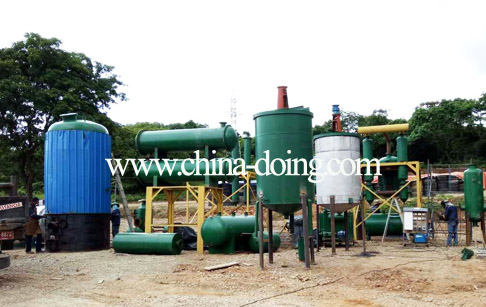 Tyres oil to diesel recycling plant
From the name, we can know that if you want to get diesel oil, firstly you have to collect the tyres oil, and then process the tyres oil through a tyres oil to diesel recycling plant. So tyres oil to diesel recycling plant should work with a machine that can convert waste tyres into tyres oil, and this plant is just our waste tyres to oil pyrolysis plant. Waste tyres are long chain polymers containing more than50,000 carbon atoms attached to each other in a cross linked or straight chain. Our waste tyres pyrolysis plant can provide a high temperature environment for tyres polymer thermo decomposition, during high temperature processing inside the pyrolysis reactor, the long chain of tyres polymer is broken down into smaller chain(C-1 to C-4 &C5-C-23). Among which, C5-C23 is oil got from waste tyres. When you have tyres oil, it will mean you get the raw material for thetyres oil to diesel recycling plant. First, pump the tyres oil from the oil storage tank into the recycli distillation reactor and then heat the reactor to start the process,

Then there will be distillation oil gas produced and flows to cooling system for cooling down into liquid oil.

Finally the liquid oil is pumped into catalytic reactors for odor-removal and decoloration, then you can get pure diesel oil also with good color.

Technical parameter of tyres oil to diesel recycling plant
Items
Contents
Model
DY-5t, DY-10t, DY-20t, DY-50t…
Raw material
waste tyre, waste plastic, waste rubber,
Structure form
Vertical (easy cleaning and maintenance)
Heating method
Indirect heating to prolong the machine service life
Operating pressure
Constant pressure
Heating material
Coal, charcoal, fuel gas, fuel oil
Average out-put oil rate
95%
Material of reactor
4 reactor with different material
Thickness of reactor
18mm
Mode of cooling
Recycled water cooling
Power in total
20 Kw
Service life
average 7 years
Land area
180㎡