Waste tyre pyrolysis machine product introduction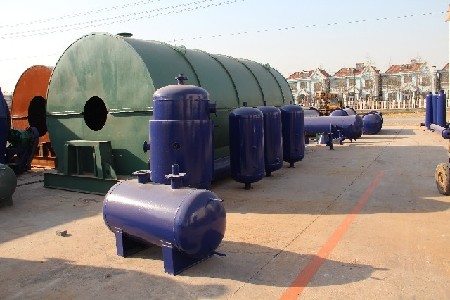 Waste tyre pyrolysis machine is majoring in pyrolyzing used tyres to kinds of valuable substances under normal pressure which can contain 8-10tons of waste tyre, whole or cut ones, large or small, and run about 23hours continuously within one day with about 2 people operate. The valuable outputs are following: largest amount of tyre crude oil, carbon black.

The below of picture is named waste tyre pyrolysis machine for disposal waste tyre, which is among the best sellers throughout year 2014.
Tyre pyrolysis machine

In the meantime, a plenty of advantages are absolutely not ignored. Safe, there are at least three main safety devices, which are connected with the reactor and cooling system, to avoid syngas going back to the reactor causing accidental explosion; besides, several safety valves are working together with the alarms to keep the reactor running under normal pressure in case the workers are absent of the site unexpectedly. Environmental friendly, chemical water is employed in dedusting system to cleanse the smoke to steam, and waste water from the cooling system and syngas from burning processing both can be recycled to the reactor and go back to the cooling system, such as heating the reactor and run as circulating cooling water again; thus air and water pollution are avoided. Energy-saving, used circular water from the cooling system and syngas both can be reused to save a lot of fuel energy and clean water, therefore reducing a large amount of cost for clients.

Besides, the available markets for the above outputs are not hard to search, actually very broad. First, the fuel oil from waste tyre can be sold to manufacturers such as power plant, glass factory, cement factory, ceramic factory, and boiler factory etc. Second, tyre carbon black can be processed to make briquette and rubber in a unique formula with good price. All the outputs have good selling lines, plus most tyre pyrolysis machine run in industrial zone which include huge markets.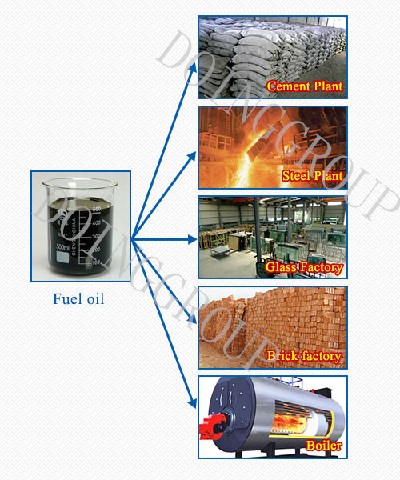 Fuel oil usage

Technical parameter of waste tyre pyrolysis machine
 
Items
Contents
1
Equipment type
DY-1-6
DY-1-8
DY-1-10
2
Raw material
waste tyre, waste plastic, waste rubber,
3
Structural form
Horizontal rotation
Horizontal rotation
Horizontal rotation
4
24-hour Capacity
6 ton
8 ton
10 ton
5
Oil yield
2.7-3.3ton
3.6 -4.4ton
4.5 -5.5ton
6
Operating pressure
Normal
Normal
Normal
7
Material of pyrolysis Reactor
Q245R
Q245R
Q245R
8
Thickness of pyrolysis Reactor
16mm
16mm
16mm
9
Rotate speed of pyrolysis Reactor
0.4turn/minute
0.4turn/minute
0.4turn/minute
10
Total power
19KW
19KW
19KW
11
Mode of cooling
Water cooling
Water cooling
Water cooling
12
Cooling area of condenser
100sqm
100sqm
100sqm
13
Kind of transmission
Internal gear drive
Internal gear drive
Internal gear drive
14
Noise dB(A)
≤85
≤85
≤85
15
Size of Reactor(D×L)
2200×6000
2200×6600
2600×6600
16
Working form
Intermittent operation
Intermittent operation
Intermittent operation
17
Delivery time
20days
20days
20days
18
Weight
27T
30T
35T