Pyrolysis Plant FAQ /Technology
With the development of the automobile industry, China' s annual production of waste tires has increased sharply, forming a new pollution, which is so-called "Black Pollution". Increasingly aggravated "Black Pollution" has made the fragile ecological environment of our country worse and worse, so it is urgent to deal with the "Black Pollution" caused by waste tires. However, in the face of such a large number of waste tires, how to achieve the transformation of waste into treasure.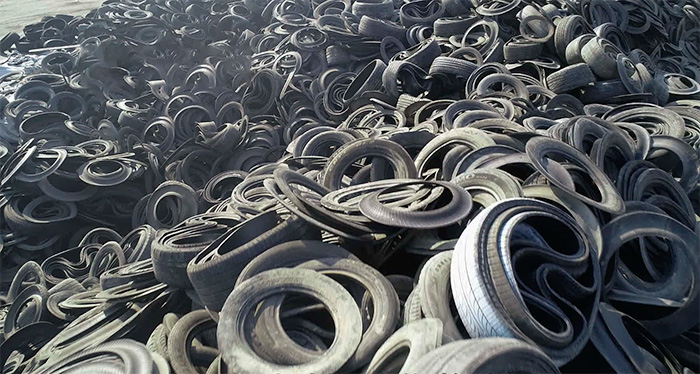 Waste tires
In fact, waste tires can be pyrolyed into oil gas by high temperature heating. Usually the procedures of making waste tire into oil consist of 7 steps: feeding, heating cooling, tail gas cleaning, smoke gas cleaning, carbon black discharging and steel wire discharging.
First, feeding. Waste tires are put into the auto-feeder ready to enter the pyrolysis reactor.
Second, heating. Waste tires generate oil gas by high temperature heating in the pyrolysis reactor.
Third, cooling. In order to make sufficient cooling effect and get the oil output, our pyrolysis equipment adopts three steps cooling system. After cooling in a three steps condensation system, including vertical condenser, horizontal condenser and cooling tower, part of the oil gas can be effectively condensed into oil and flows into oil tanks.
Fourth, tail gas cleaning. While the other part of uncondensable combustible gas is pyrolyed into combustible gas by spraying in the tail gas cleaning system and returned to the pyrolysis reactor as fuel for heating.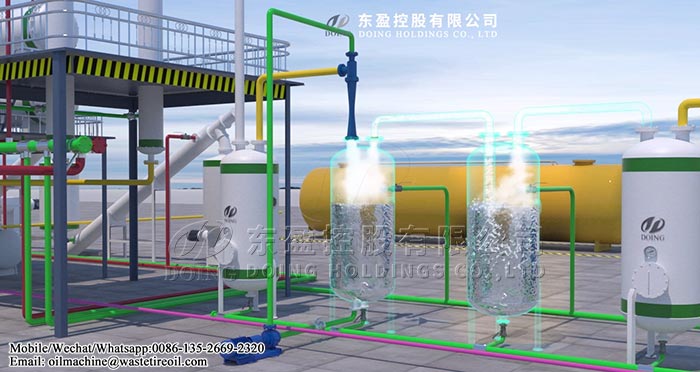 Tail gas cleaning and odor removal system of batch type waste tire pyrolysis
Fifth, smoke gas cleaning. The smoke generated in the pyrolysis reactor during the heating process is purified through the smoke cleaning system - desulfurization & purification tower, and the smoke can be discharged after reaching the national environmental protection standard.
Smoke cleaning system-desulfurization & purification og batch type waste tire pyrolysis
Sixth, carbon black discharging. The pyrolysis reactor is cooled through the cold air system, and when it cools to about 50 degrees, the wind conveying system in the carbon black slag discharge device is opened to collect the residual material inside the reactor - carbon black, which can be directly made into pellet or briquette for burning or further process in into color master batch as an additive for subsequent rubber products.
Last, steel wire discharging. Steel wire is pulled out of the pyrolysis reactor inlet by steel wire drawing machine.
The refining technology of waste tire plays an important role in the treatment of waste tires. Through the treatment of the detailed technical process of waste tires refining, the products with high value, such as fuel oil, carbon black, steel wire, uncondensable gas have been obtained.
Inquiry more pyrolysis plant technology information
Leave a message to get more information about how to make waste tires into oil ?.Our engineer will contact you ASAP to analysis pyrolysis plant project cost for you.