Pyrolysis Plant FAQ /Technology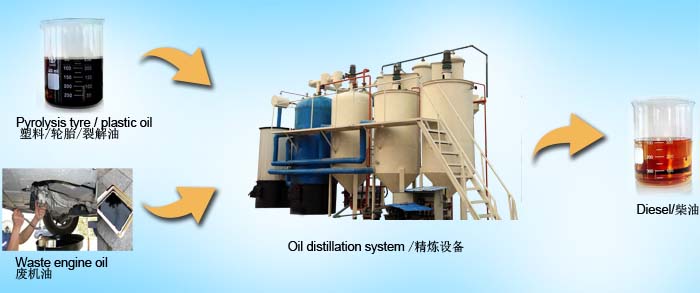 Waste oil distillation plant

Nowadays, everything is evaluated by quality, and no exception for oil. Although we can get pyrolysis oil from waste tire, rubber or plastic by pyrolysis plant and the oil can be applied to generators, ships and trucks, it seems lots of people would like to pursue higher quality oil, like diesel and gasoline. Thereby, the waste oil distillation plant becomes a very hot and highly profitable green project, which cost low, collect raw material easily and convert pyrolysis oil to diesel or gasoline efficiently (oil recovery rate is about 90%).
How to convert used oil to diesel?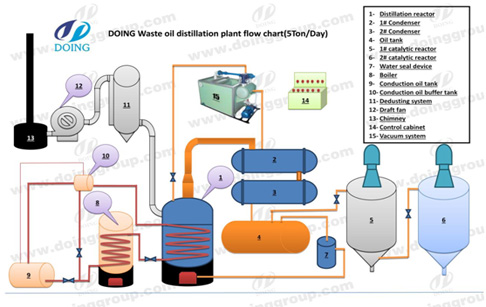 Waste oil distillation plant working process

1. Pump raw material into distillation reactor by oil pump. Then close the feeding inlet to totally sealed. (Continuous plant adopts automatic feeding device);
2. Use coal/wood/natural gas/fuel oil/electricity to heat the reactor, and the liquid oil will slowly become oil gas, which will be liquefied into fuel oil by the cooling pipe and condensers and then go into oil tank. For getting higher quality diesel, you are required to control the temperature over 150 Celsius degrees. When the temperature decreases to below 150 Celsius degrees, the gasoline will be cooled out;
3. Some gases like Methane, Ethane, Propane, Butane cannot be liquefied will be recycled into the furnace for heating the reactor;
4. It will produce some smoke when fuel materials are burnt. The smoke will be processed by dedusting system completely;
5. The exhaust gas will go into the chimney sucked by draft fan, before emission the exhaust gas will become steam, no pollution.
Inquiry more pyrolysis plant technology information
Leave a message to get more information about how to convert used oil to diesel?.Our engineer will contact you ASAP to analysis pyrolysis plant project cost for you.