Plastic recycling process pyrolysis plant product introduction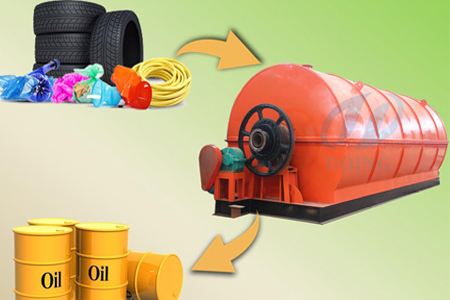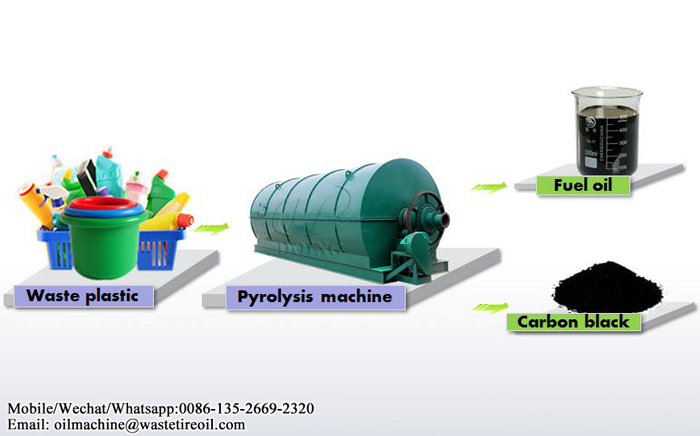 Plastic recycling process pyrolysis plant
Plastic recycling process pyrolysis plant can convert the plastic waste to energy, such as plastic pyrolysis crude oil, carbon black and combustible gas. Those products are popular in the market, and they also have a great market value.
In recent years, the developing economy and the increasing level of consumption cause the consumption of the plastic products becomes larger and larger, thus the amount of waste plastic is also huge.

Plastic waste treatment means a lot to environmental protection and the healthy development of plastic industry, however, in fact, most of the waste plastic products are not well recycled because of the technology and the policy. According to statistics, only 5%-25% of the plastic waste get well recycled, and most of the plastic packing materials are remains unsettled. The packing materials have a shorter service life and there are several kinds of the packing materials, which make the recycling of plastic packing material much more difficult.

Plastic recycling process pyrolysis plant working process: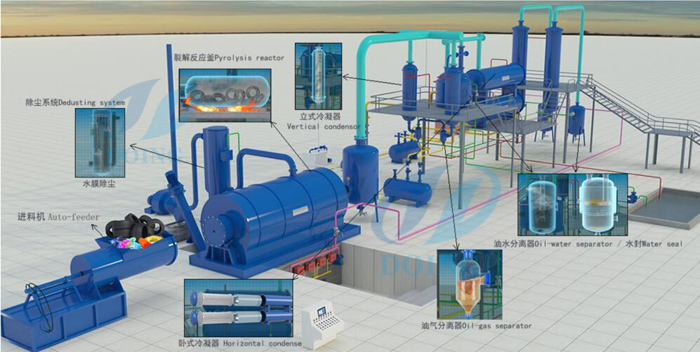 Plastic recycling process pyrolysis plant

1. Put raw materials into reactor by auto-feeder, then heat the reactor with any one of the following fuel materials: coal, wood, natural gas, oil. Do not stop heating the reactor, when the temperature reaches nearly 250 degree Celsius, waste plastic will be transferred to oil gas.
2. The liquid oil will be cooled by condenser from oil gas and then collected by oil tank. Third, the exhaust gas which can not be cooled in normal pressure will be recycled to heat the reactor. In this way, you can not only saving energy, but also protecting environment.
3. Smoke produced by processing the plastics can achieve national emission standard through dual desulfurization and dusting removal device.
4. After you get crude oil, the temperature will be low, at this time, carbon black will be discharged automatically.
Last, when the temperature falls to 100 degree Celsius, After all these steps, you can start another batch.

Plastic recycling process pyrolysis plant final product application:

Plastic oil (45-52%) application: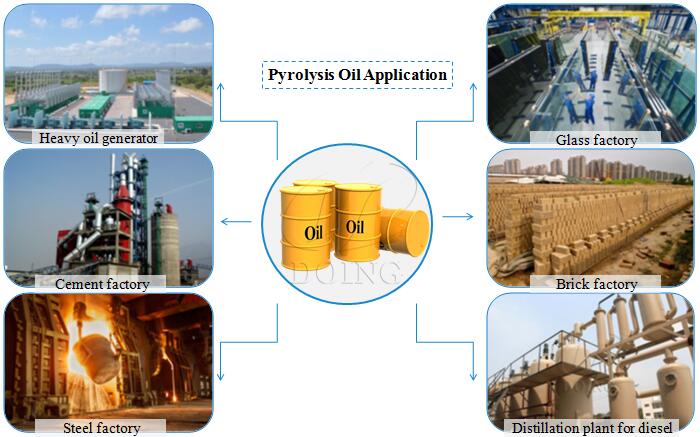 Plastic pyrolysis oil application

1. Can be widely used as industrial fuel materials for burning.

2. If further refined to diesel or gasoline, the oil can be used in low speed engines such as digging machine, road roller or loading machine, etc.

3. It can help in relieving energy crisis.

Carbon black (30-35%) application: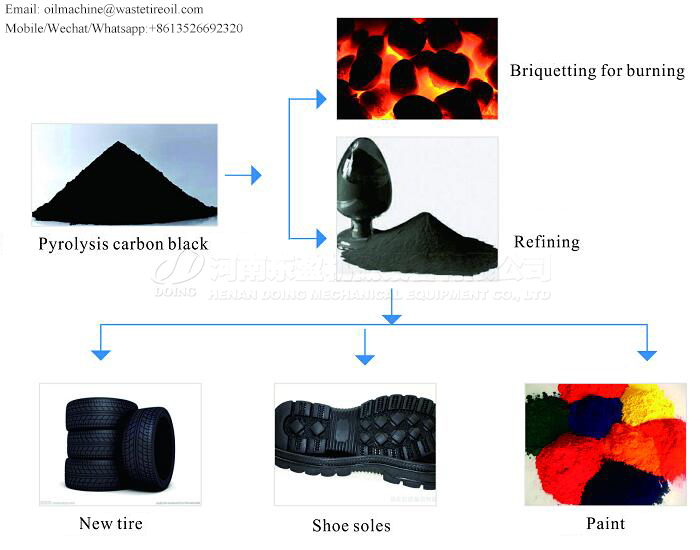 Carbon black application

1. The carbon black can be used for construction bricks with clay or used as fuel.

2. If further processed by Doing group carbon black processing plant, the carbon black can be deep processed into N220, N330 Carbon black, which has higher value and wider applications.

3. It can be made into pellet or briquette for burning, or further processed into color master batch as basic material to make pipes, cable jacket etc.