Waste tire recycling pyrolysis plant product introduction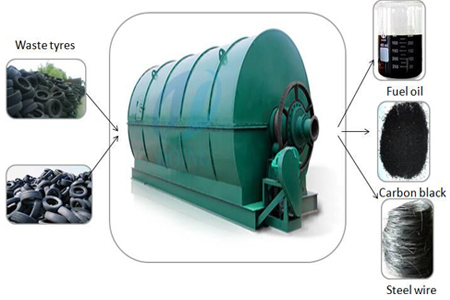 Waste tire recycling pyrolysis plant
Waste tire recycling pyrolysis plant

Waste tire is often called "black pollution", because it not only easily causes fire, but also pollutes the environment. However, it is also a kind of valuable renewable resources for human beings. Through the use of waste tire recycling machine manufactured by Doing company. We can get three kinds of final products: 45%-52%tire fuel oil, 30% carbon black, 12%- 15% steel wire and 10% gas . They all have a wide range of applications. For example, the tire fuel oil can be used as industrial fuel materials for burning, or further refined to diesel or gasoline. The carbon black can be used for construction bricks with clay or used as fuel. The steel wire can be re-sale or reprocessing. There is also a little combustible gas producing in the process, the gas can be recycled to heat the reactor as fuel, which will save energy for the whole working process.
Waste tire recycling pyrolysis plant raw material

1. Waste tire/tyre
2.Waste plastic
3.Waste rubber

Waste tire recycling pyrolysis plant working processing

Waste tire recycling pyrolysis palnt is processing waste tires


1. Firstly, the raw material was put into furnace with auto feeder,then seal the feed inlet system.
2. Secondly, burned the fuel material (coal, or wood, or natural gas, oil ) in the combustion system .The reactor will slowly heat, when the temperature reach around 150 degree Celsius, it will produce oil gas .
3.Oil gas will be processed by our technology ,then gone to cooling system to cold liquid oil. The gas which can not be liquid under normal pressure ,which will be designed to back to combustion system to instead the fuel material to burn the reactor .which can save energy very much.
4. After finished oil produce ,the temperature of reactor will be down ,in same time ,carbon black will be discharged automatically.
5. Lastly, when the temperature fall to 100 degree Celsius, worker could opened the door of reactor to discharge of steel wire .
Then can start to another batch working.
Waste tire recycling pyrolysis palnt features
We can get tire oil,carbon black,and steel from waste rubber tires and plastics.
2. High oil output rate 45%-52%, the rubber up to 60%.
3. Rapid condenser, we have 5 condensers, the cooling area up to 53 square meters, the area larger, the more oil u can get.
4. Large capacity: 6tons / 8tons / 10tons / 12tons / 20tons.
5. Safety device, we have automatic alarm bells with pressure gauge, If pressure gauge more than the pressure, bells will ring.
6. Environmental protection, no pollution, no smell.
7. 6—8 years life, 1 years warranty

Waste tire recycling pyrolysis plant final product application
Fuel Oil (45% to 52%)
The main application of oil products produced by our waste tire recycling pyrolysis plant is the fuel oil that is wide used for industrial and commercial purposes. Such as power plant factory,glass factory,cement factory,ceramic fatory.

Steel Wire (12% to 15%)
The third product of waste tire recycling pyrolysis plant is steel wire, the quantity of steel wire is about 10% to 15% according to tyre quality. It is very easy to sell steel wire scrape in local market.

Carbon Black (30%)
The second product of waste tire recycling pyrolysis plant is carbon black. The quantity of carbon black is about 30% to 35% according to tyre quality. Carbon black can application to electric cable jacketing,black nylon bag,rubber additive

Exhaust gas (About 10%)
We get about 10% pyrolytic gases during pyrolysis process. The main component of this gases are methane (CH4), so we can not condense and store this gases. We use this gases to heat the reactor and we can use exceed gases for other heating application.


The keys of waste tire recycling pyrolysis plant ine are reactor and cooling system

Reactor directly decides the machine's safety and service life. It is made by welded steel plate. So the quality of welding will have a direct impact on safety and service life. Therefore, we use automatic welding machine, X-rays detection and heating treatment which will not only guarantee the quality of welding but also greatly improve working efficiency.
Waste tire recycling machine cooling systems decides oil output. There are two steps for cooling. Cooling pipe is the first step. The second is condenser. Its inner have 61 pipes in one condenser. The total cooling area is 100㎡. This will guarantee you a high oil yield. The reasonable design has a direct relationship with the oil output.

Technical parameter of waste tire recycling pyrolysis plant
 
Items
Contents
1
Equipment type
DY-1-6
DY-1-8
DY-1-10
2
Raw material
waste tyre, waste plastic, waste rubber,
3
Structural form
Horizontal rotation
Horizontal rotation
Horizontal rotation
4
24-hour Capacity
6 ton
8 ton
10 ton
5
Oil yield
2.7-3.3ton
3.6 -4.4ton
4.5 -5.5ton
6
Operating pressure
Normal
Normal
Normal
7
Material of pyrolysis Reactor
Q245R
Q245R
Q245R
8
Thickness of pyrolysis Reactor
16mm
16mm
16mm
9
Rotate speed of pyrolysis Reactor
0.4turn/minute
0.4turn/minute
0.4turn/minute
10
Total power
19KW
19KW
19KW
11
Mode of cooling
Water cooling
Water cooling
Water cooling
12
Cooling area of condenser
100sqm
100sqm
100sqm
13
Kind of transmission
Internal gear drive
Internal gear drive
Internal gear drive
14
Noise dB(A)
≤85
≤85
≤85
15
Size of Reactor(D×L)
2200×6000
2200×6600
2600×6600
16
Working form
Intermittent operation
Intermittent operation
Intermittent operation
17
Delivery time
20days
20days
20days
18
Weight
27T
30T
35T