Waste oil refinery machine&plant product introduction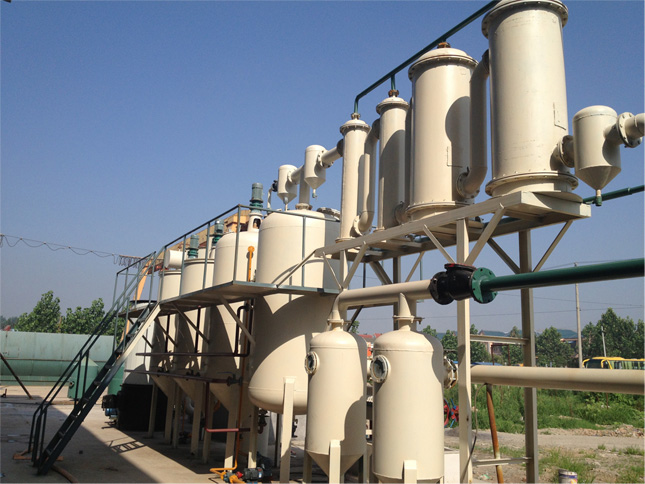 Doing waste oil refinery machine is machine to convert waste oil to diesel. The waste oil can be waste engine oil, waste motor oil, and waste plastic oil, and waste tyre oil, etc. The final product of waste oil refinery machine is diesel. The diesel can be used directly for diesel power generator, tractor, ship etc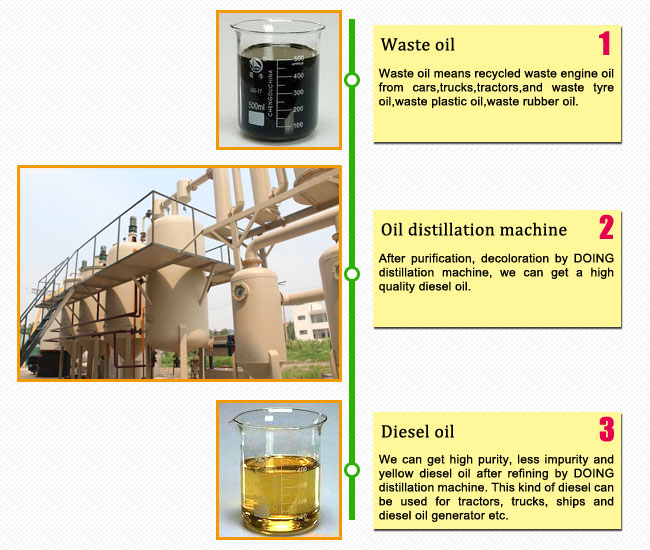 Doing new Tech 5T/d oil refinery machine is mainly composed of 4 reactors respectively for hydration impurities precipitation, esterification & neutralization, distillation and de-colorization, cooling system, vacuum system, filtering system, boiler heating system as well as de-dusting system. For our waste oil refinery machine we can convert waste tyre oil, waste plastic oil, waste motor oil, and waste engine oil into diesel. We mainly have two types waste oil refinery machine: capacity 5T and capacity 10T that means the machine can deal with 5T or 10T raw waste oil per day.
Waste oil refinery machine detail:
1. Final product-diesel
2. Daily processing capacity: 5T-10T.
3. Long working life
4. Boiler heating system
5. Best catalyst formula
6. Oil recovery rate: 85%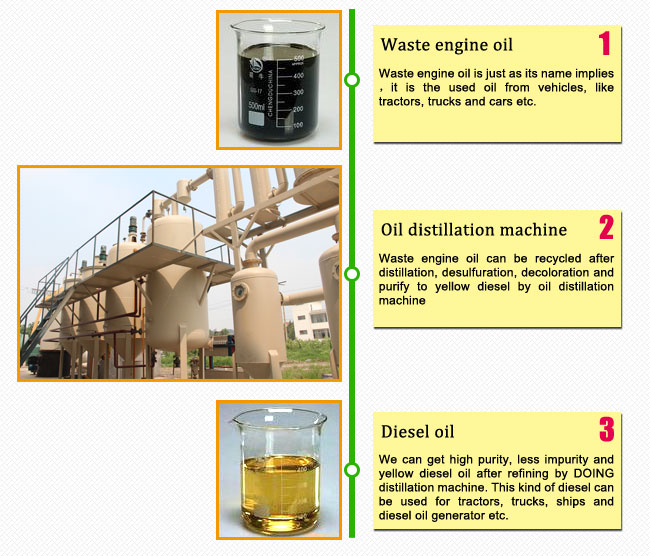 Parts of machine:
1. stainless steel reactors
2. Oil filters and purifying devices
3. Catalyst tanks
4. Oil tanks
5. Oil pumps
6. Condensors
7. Boiler heating system
Specifications:
1. Indirect heating system by boiler oil improves heating efficient, what Is more thus will ssave energy and protect the environment.
2. 5 stage purifying process to guarantee pure and high quality oil.
3. We will deliver the plant as soon as possible.
4. Send engineer abroad for machine installation and commissioning.
Our advantages:
a. With two years' research and development for the waste oil refinery technology, now our waste oil refinery technology is mature and advanced.
B. The machine can process waste tyre oil, waste plastic oil, waste engine oil, waste motor oil,
C. The diesel generated can directly be used for diesel oil generators and trucks, etc.
D. Special boiler heating system greatly increases service life of machine but also improves the efficient of heating.
E. Five purifying process ensure final diesel pure and high quality.
Technical parameter of waste oil refinery machine&plant
Items
Contents
Model
DY-5t, DY-10t, DY-20t, DY-50t…
Raw material
waste oil, plastic oil, tyre oil,
Structure form
Vertical (easy cleaning and maintenance)
Heating method
Indirect heating to prolong the machine service life
Operating pressure
Constant pressure
Heating material
Coal, charcoal, fuel gas, fuel oil
Average out-put oil rate
95%
Material of reactor
4 reactor with different material
Thickness of reactor
18mm
Mode of cooling
Recycled water cooling
Power in total
20 Kw
Service life
average 7 years
Land area
180㎡