Final product of scrap tyre oil plant product introduction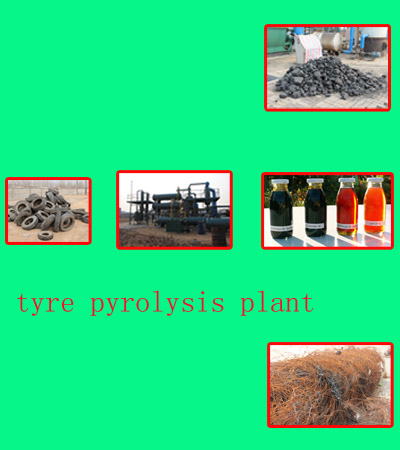 Final products of scrap tyre oil plant

The tyre oil plant is a process converts the waste tyre to fuel oil. The final product of the tyre oil plant is fuel oil, CATBON BLACK, STEEL WIRE AND GAS. During the process the waste tyre will 100% recycling. The tyre oil plant can also deal with the rubber based material such as Electric cable jacketing, Conveyor band, Carrier Bands, Hose and doormat, Black nylon bag, Rubber additive, Automotive spare parts, Heat isolation, Black colorant in rubber materials, Plastic pipes, Industrial rubber products, Fire fighting and so on.

The main product of plant is fuel oil, the oil yield rate is about 40%-45%, and the 40%-45% oil recovered from the waste tyre can be used for heavy industries such as boiler, heating fuel, heating fuel and so on.



Carbon black is the main product of recycled by the plant, the rate of the Carbon black recovery from the waste tyres are 30%-35%, that depends on the types of the waste tyre. Carbon black is used as raw material or main ingredient in many industries and the chemical structure of carbon black strengthens, lengthens the endurance, and improves the coloring features of the materials. What is more, the carbon black produced is more economic compared to carbon black produced primarily from petroleum and is more price-efficient to be used as an ingredient in the industries listed.

For the carbon black generated during the process we have automatic carbon black discharging system, the carbon black will be discharged from the reactor

Steel wire is about 10%-15% waste tyres contain steel wire and the amount range of 10%-15%. All of the steel present in the tyre can be detached after pyrolysis recycling process is completed. The steel wire can be the raw material for other steel products.

Gas during the process there will be some gas which cannot be condensed. The gas can be stored. In most cases the gas is recycled to heat the reactor instead of the natural gas.
The tyre oil plant creates economically valuable products out of waste tyres.and raw material is cheap and easy to provide.


Technical parameter of final product of scrap tyre oil plant
 
Items
Contents
1
Equipment type
DY-1-6
DY-1-8
DY-1-10
2
Raw material
scrap tyre, waste plastic, waste rubber,
3
Structural form
Horizontal rotation
Horizontal rotation
Horizontal rotation
4
24-hour Capacity
6 ton
8 ton
10 ton
5
Oil yield
2.7-3.3ton
3.6 -4.4ton
4.5 -5.5ton
6
Operating pressure
Normal
Normal
Normal
7
Material of pyrolysis Reactor
Q245R
Q245R
Q245R
8
Thickness of pyrolysis Reactor
16mm
16mm
16mm
9
Rotate speed of pyrolysis Reactor
0.4turn/minute
0.4turn/minute
0.4turn/minute
10
Total power
19KW
19KW
19KW
11
Mode of cooling
Water cooling
Water cooling
Water cooling
12
Cooling area of condenser
100sqm
100sqm
100sqm
13
Kind of transmission
Internal gear drive
Internal gear drive
Internal gear drive
14
Noise dB(A)
≤85
≤85
≤85
15
Size of Reactor(D×L)
2200×6000
2200×6600
2600×6600
16
Working form
Intermittent operation
Intermittent operation
Intermittent operation
17
Delivery time
20days
20days
20days
18
Weight
27T
30T
35T