Pyrolysis Plant FAQ /Technology
It is is true no matter in which industry or field, only continuous upgrade can besuccessful. After years of development, the waste tire pyrolysis palnt has long been unable to meet the current needs and policies. In order to carry out this project legally and profitably, we must upgrade and transform waste tire pyrolysis plant.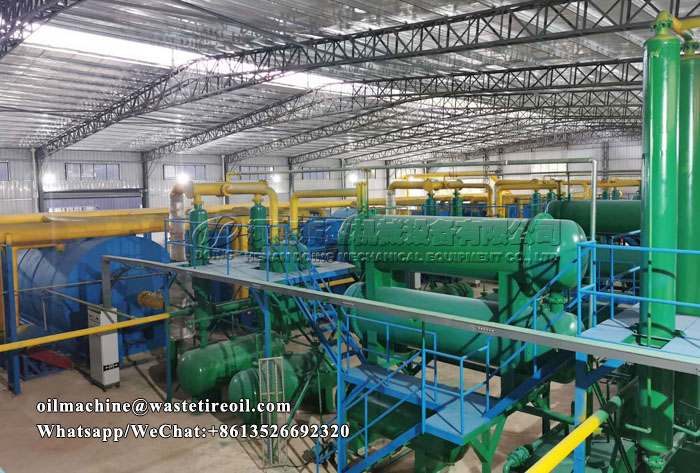 Waste tire pyrolysis plant

First of all, in terms of environmental protection, the past waste tire pyrolysis plant was limited by backward technology and people's lack of environmental awareness. The pyrolysis oil produced by past waste tire pyrolysis plant did not meet the standards, and the waste water and waste gas were discharged randomly, which caused certain harm to the environment. The upgraded waste tire pyrolysis plant is equipped with exhaust purification system, desulfurization tower and other environmental protection devices, which can meet the national environmental protection requirements, there is no discharge of waste water, waste gas and wasteresidue.
Waste water: Circulating water used in the condensation process

The entire production line of the upgraded waste tire pyrolysis plant adopts circulating water, the waste water can be recycled and used for cooling.
Waste gas: The exhaust gas can be recycled as fuel through the exhaust gas purification system.
Gas purification system
Wasteresidue: The waste residue produced by the upgraded waste tire pyrolysis plant is carbon black, which can be further processed, and the whole operation process is carried out in a sealed environment, which also prevents dust pollution.
Secondly, in terms of production technology, the upgraded waste tire pyrolysis plant has a high degree ofautomation, which can improve production efficiency and oil yield. Inthe past, waste tire pyrolysis plant required more manual manipulation, and preheating would waste a lot of fuel, resulting in unnecessary consumption of fuel. The upgraded waste tire pyrolysis plant adopts PLC control system, which can realize automatic continuous feeding and slag discharge, saving time and effort, the next production can be carried out without waiting for the reactor to cool, which saves energy and greatly improves production efficiency. The accurate calculation system can ensure that the waste tires are fully pyrolyzed, and the oil product has a high oil yield, so as to obtain more profits.
The upgrading and transformation of waste tire pyrolysis plant is the general trend. Doing's machine transforms waste tires, waste plastics, oil sludge and waste aluminum plastics into sustainable energy products with high added value, which is realized under the premise of safety, environmental protection, low consumption and high efficiency. Our factory provides prototypes, welcome to visit and inspect at any time.
Inquiry more pyrolysis plant technology information
Leave a message to get more information about why do we need upgrade and transform waste tire pyrolysis plant?.Our engineer will contact you ASAP to analysis pyrolysis plant project cost for you.