Pyrolysis Plant FAQ /Technology
Pyrolysis oil is one final product of waste tire pyrolysis plant, it can be sold directly but also can sold with higher price after distilling process by waste oil refinery plant which can be used for heavy machinery and diesel generator. I guess many people who are interested in this waste oil refinery plant want to know how profitable it is.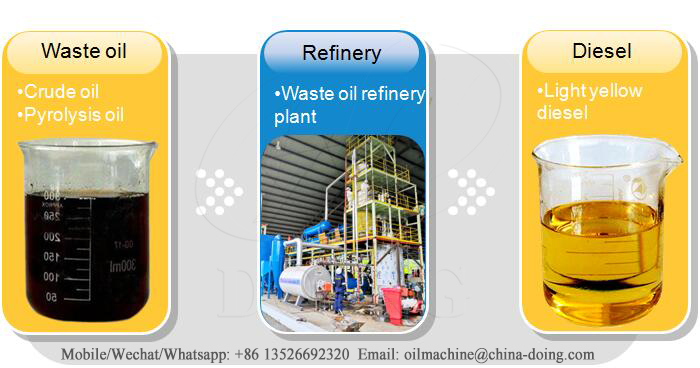 Refining pyrolysis oil to diesel by waste oil refinery plant

The profits of distilling pyrolysis oil is main related to the oil yield of waste oil refinery plant, so choosing a waste oil refinery plant with good quality is very important. The oil yield of DOING waste oil refinery plant can reach 80%-85%, in other words, you can get 0.8t-0.85t diesel fuel from 1t pyrolysis oil. The price of 1t diesel fuel can be sold in 700USD, so you can earn nearly 560USD after disposing of 1t pyrolysis oil. Even the cost of fuel, water and electricity are removed, there is still a lot of profits.
ROI Analysis For 10T/D waste oil to diesel refining plant
Running Cost / Day
Waste engine oil
10Ton * USD265/Ton = USD2650
Heating fuel (Diesel)
0.6Ton * USD700= USD420
Catalyst
USD100
Electricity
USD60
Water
Water is for circulation use, no consumption
Worker
2 * USD25 = USD50
Income / Day
Diesel
8.5Ton * USD700 = USD5950
Oil sludge (Asphalt)
1Ton * USD200 = USD200
Profit / Day
USD2870
After finishing above analysis form, I believe that you must have a clear understanding of how profitable the waste oil refinery plant business is. And if you add one set waste tire pyrolysis plant, you can get diesel fuel from waste tires directly which will be more profitable. So if you are interested in this business, welcome to call us, we'd like to answer your questions.
Inquiry more pyrolysis plant technology information
Leave a message to get more information about what is the profit of distilling 1t pyrolysis oil by waste oil refinery plant ?.Our engineer will contact you ASAP to analysis pyrolysis plant project cost for you.