Pyrolysis Plant FAQ /Technology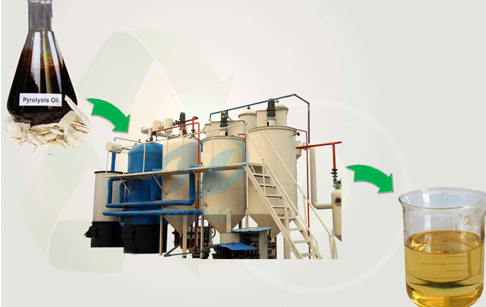 Waste oil to diesel machine

Diesel is one of the petroleum products, which is used in all kinds of compression ignition engine as a fuel. It is produced from waste oil by various refining processes, which come out from the oil wells. It assumes that the source of waste oil would be ruined in future, as the demand of petroleum products is growing at faster rate day by day. Natural gas is the largest energy resource in world.

Waste oil to diesel fuel machine is efficient way to save both money and the environment. Waste oil can generate quality energy, if processed, stored and handled with care.
Waste oil to diesel oil plant working process

1. Pre-treatment device for raw material: waste oil is fed into refinery boiler after pre-treatment.

2. Refinery system: heat the waste oil to working temperature by using fuel oil, gas, coal etc. as heating materials. In the meanwhile, there are stir system and heat preservation system.

3. Cooling system: cool the gaseous hydrocarbon into diesel.

4. Interim storage system: base oil and diesel after cooling are stored here, and then put into oil tank.

5. Vacuum system: to meet the process required.

6. Filter system: rapidly filter mechanical impurities in the diesel produced, and got qualified diesel.


Inquiry more pyrolysis plant technology information
Leave a message to get more information about waste oil to diesel fuel?.Our engineer will contact you ASAP to analysis pyrolysis plant project cost for you.